What are Portable Energy Storage Systems?
Portable power stations (also called gasless generators or battery-powered inverter generators) are devices that can store electrical power in an internal battery for later use. Since generators emit carbon monoxide, they require that you take precautionary safety measures, including operating the device outside, at least 20 feet away from any structure and building. "These generators have no fumes and all of the models we tested made virtually no noise," says test engineer Dave Trezza. In essence, they are giant power banks. Portable power stations usually provide electrical power of up to 1000W, although there are exceptions and devices with much higher capacity that can be encountered on the market. A portable power station might be the answer to your needs during inevitable inconveniences and emergencies such as a power outage in your neighborhood or during natural disasters or you simply want more satisfactory outdoor travel and camping. Powered by lithium batteries, the units have a lot of advantages over the traditional gas- or diesel-powered generators.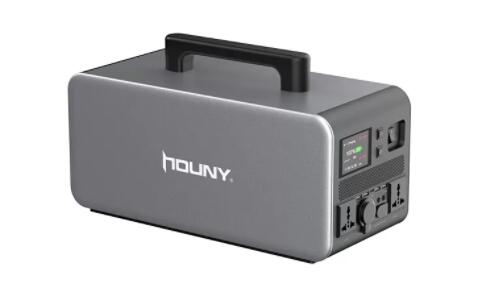 Benefits of Portable Power Supply
● Portability
Gas generators are at least three times bigger and substantially heavier, at 100 pounds or more, with a gasoline-powered engine and fuel tank. Lithium-powered generators can be stored easily in the back of an SUV with your luggage and recreational gear. HOUNY is now one of the leading manufacturers in portable power supply. With compact design and portability, it can be transported easily.
For individuals constantly on the go, portable power is a great advantage. How about going camping with HOUNY power station?
● Noiseless
Battery-powered stations are quiet, making for easy conversation around the campfire whilst toasting marshmallows, unlike generators that are designed to be noisemakers. Power stations allow you to enjoy outdoor gatherings with ease.
● Safety
A crucial advantage of battery-powered generators is the absence of carbon monoxide gas produced by engines. Gas-powered generators cannot be safely operated in a house or even in a garage because of this danger. Battery-powered generators produce no toxic fumes. Despite the bad press that some lithium batteries have received for catching fire, engineers have overcome those defects.
HOUNY Power stations are equipped with an internal structure divided into separate battery cells and liters. Thus the pressure circuit warehouse, working radio frequency, temperature rise, etc. do not interfere with each other and are designed with an air duct heat dissipation that helps lower operating temperature. The surface is protected by anodizing technology, which is more resistant to abrasion and explosion.
● Durability
The lithium batteries in today's portable power stations are rechargeable by a variety of means. Solar panels are available, though sold separately. They can be recharged at a home wall plug-in or using a twelve-volt plug for a car charger. Gas-powered generators depend on a supply of gasoline and often force you to carry extra gas in cans, which is a safety hazard. HOUNY Power Stations have a built-in gauge-grade lithium phosphate battery pack. The ring has a lifespan of more than 2,000 times which is more safe and durable than other types of lithium batteries.
● Reliability
HOUNY Power stations have Built-in U.S. TI chip and BMS circuit tubes that manage systems with precise control—enhancing safety concerns. Enabling overfilling protection, overloading protection, short circuit protection, overcurrent protection, overflow protection, overflow protection, pressure protection, under pressure protection, overload protection, over-temperature protection and multi-protection circuits to ensure a hazard-free experience.
● Compatibility
Power stations have convenient outlet plugs, a 12-volt plug, and USB plugs for charging cell phones, desktops, laptops and other devices such as electric blanket power supply, lightings, a heater to boil water, refrigerators, etc.
Are portable battery stations worth it?
Yes, at no extra cost other than the amount spent for the initial purchase, we would be acquiring a bargain and a reliable backup plan. Purchasing a portable power station is a wise choice because it provides a more flexible and safe user experience. After the initial purchase, there are zero additional expenses. With no need for refueling and repairs, you eventually save your money with long-term use. For each purchase decision, acquiring its efficiency and durability are crucial features we perpetually desire. Its design allows for charging anywhere at any destination of preference—we then can live without the fear of unexpected outages and natural disasters.