A-1000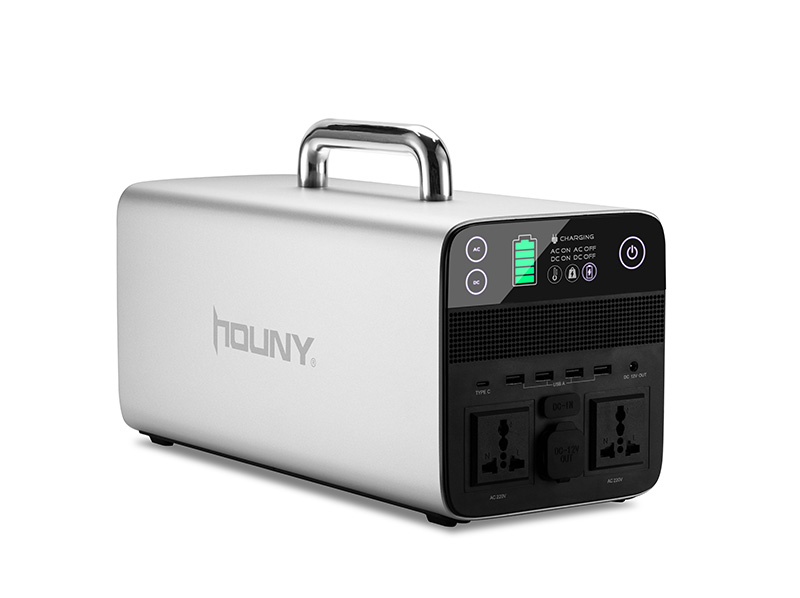 1) Output power: The rated 1000W; Peak 2000W
2) Output voltage: AC110V/220V 50Hz/60Hz Pure Sine Wave
DC12V*1: 12V/5A
DC12V Cigarette Port: 12V/10A
USB A*2: 5V 2.4A, 9V/2A,12V/1.5A; USB A*2: 5V/2.4A, 9V/2A,
12V/1.5A
Type C port:5V/2.4A, 9V/2A, 12V/1.5A
3) Input: DC 9-24V/5A 120W max
4) Battery Capacity: 12.8V 78Ah 998.4Wh
5) Built-in Battery Type: LiFePO4 Battery
6) Working temperature: 0℃-40℃.
7) Size: 386*165*173mm Handle size: H46mm,L136MM
8) Net Weight: 13KG
9) More than 2000 cycle times
10) Touch screen
11) Metal case
1. Fashionable family series(250/500/1000W) to meet different requirements.

2. Compact design and portability.
3. Touch screen for AC DC power operation.
4. MPPT controller built in, super efficient in solar charging.
5. Triple heat dissipation, luxury air-craft grade aluminum casing, separate design for battery and inverter inside, high-speed & quite cooling fan.
6. Famous American IC brand - TI, for smart control of battery management system.
7. UL certified LifePO4 battery for deep cycle life and safety.