PD03 (18W)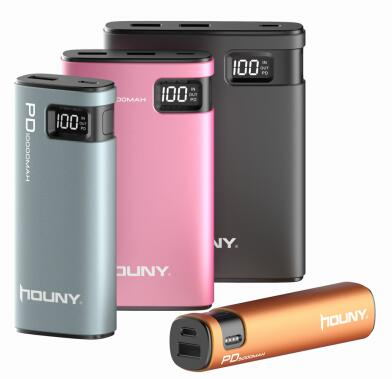 1) Lithium battery
2) Input: 5V/3A 9V/3A 12V/3A 15V/3A 20V/2.25A (45W Max)
3) Output:
PD01 (18W Max)
PD02(18W Max)
PD02 (45W Max)
PD03 (18W Max)
PD03 (45W Max)
PD04 (18W Max)
PD04 (60W Max)
4) Color: black
5) Size:
26*26*117mm
26*48*117mm
26*70*117mm
26*92*117mm
6) Aluminium case

15000mAh
PD series Power bank

60W PD 3.0 and QC 3.0 Fast Charge
Charge any of your power-hungry device, including laptops or any USB-C charging enabled device with PD series. With 60W USB-C Power Delivery charge your devices at faster speeds than regular chargers.

With high quality durable aluminum housing

Charge Multiple Devices at Once
Charge multiple devices at once using the USB-C and USB A.

LED Power Indicator
The integrated digital display show charging status and the current battery life.

With multi-national safety certificates and protection system to ensure safety use
It has adopted PCB System Setting Protection, including Over Charge Voltage Protection, Over Discharge Voltage Protection, Over Current Protection, Short Circuit Protection, Over Temperature Protection & Automatic Power Cutoff Protection.
It has acquired FCC, CE and ROHS international safety certificates, and Global Product Liability Insurance to ensure safety and reliability of the battery.