HY 12-150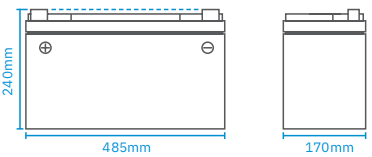 Nominal Voltage: 12.8V
Nominal Capacity: 150Ah
Energy: 1920Wh
Cell Type: LiFePO4 Battery
Size: 485*170*240mm
Operate Temperature: -10 ~ 45 ºC
Terminal Type: M8
Case Material: ABS
Enclosure Protection: IP66
12.8V 150Ah 1920Wh Deep cycle battery pack
1, High cycle life and excellent performance over a wide operating temperature.
2, LiFeO4 batteries are the safest lithium battery type currently available on the market today.
3, Featured with advanced battery management systems (BMS)
Lithium iron phosphate batteries (LiFePO4 or LFP) offer lots of benefits compared to lead-acid batteries and other lithium batteries. Longer life span, no maintenance, extremely safe, lightweight, improved discharge and charge efficiency. Due to a long life span and zero maintenance, it's the best investment you can make over time.